Range of Innovative Products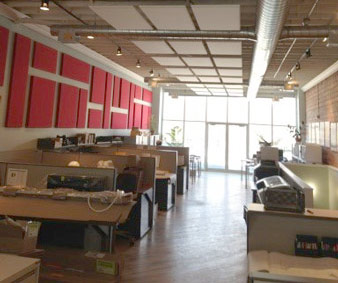 Wood Cogger carries a range of innovative products from many trusted suppliers. We strive to bring you the best quality ceiling and acoustical components in the Regina area. Our product options will play a large role in your beautifully finished interior – Wood Cogger provides suspended ceilings, sound masking, specialty acoustics, lenses and diffusers, among many other systems for your home or business.
---
Tectum
Wood Cogger offers supply and installation of Tectum Acoustical Wall and Ceiling Panels. Manufactured of Aspen wood fibers and a hydraulic cement binder, Tectum was created to absorb sound and minimize noise. It's used in several environments such as schools, open office spaces, retail stores, sound studios and gymnasiums to name a few. Although lightweight and beautifully designed, these products are tough with proved durability in high-traffic, high-impact areas and can be customized during your installation. Because style is a critical element, Tectum can be natural, painted or covered in fabric to provide an attractive and custom finish in your setting.
---
Acoustical Treatments
Our acoustical treatment options include Fabric and PVC-wrapped Acoustic Panels, Specialty Foam Panels, Acoustic and Reflective Wood, Tectum and Sound Isolation Barriers. Acoustical treatments reduce and control reverberated noise within a space. Reducing the reverberated noise will provide a more comfortable and efficient working atmosphere. These different types of products have options for custom sizes, shapes and colours to enhance your environment.
Check out the links below for more information about each of the acoustic treatments:
---
Suspended Ceilings
With access to products from all the major commercial suppliers of ceiling tile and suspension systems, Wood Cogger offers you a variety of choices of suspended ceiling in a wide range of materials.
There are many different product options and finishes available when considering a suspended ceiling. Please see the following links to view the many different options available or contact us directly for assistance in determining what will work best in your space.
---
Sound Masking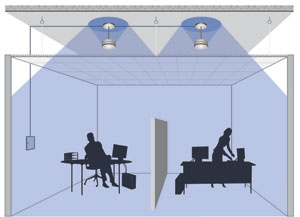 The sound masking system we provide is efficient in many commercial spaces such as offices, call centers and medical patient rooms. This system includes loudspeakers installed into the ceiling plenum in a grid-like pattern. Without this technology, ambient or background sound levels are usually too low creating distractions and making it difficult to concentrate. Therefore, background noises are emitted from the speakers, making an ambient working environment. The sound masking technology will cover other conversations and potentially distracting sounds. We are available to install sound masking systems that are comfortable and discreet, tailored exactly to the way your business works. Wood Cogger uses a sound meter to fine tune the system to standard and custom requirements, efficiently creating speech privacy and ultimately boosting productivity.
---
Lenses and Diffusers
We stock and custom cut a variety of Liteline Optics to suit your commercial light fixtures. Our stock includes prismatic KI2 acrylic, silver parabolic and white eggcrate. We also special order many additional types of lenses including wraparounds. There are several patterns to choose from to create your desired lighting effect. Our stock items come in standard sizes, however; we are also able to custom cut lenses and parabolics to meet your requirements.
At Wood Cogger. in Regina, we carry a variety of lenses to suit your residential or commercial light fixtures.We have about four different kinds of lenses on hand at all times. Our stock includes a range of lens styles such as acrylic, wraparound, globes, and so much more.
The Wood Cogger team will cut the lenses for a customized fit, for all of our clients. If you would like a different kind of lense that we do not have in stock, Wood Cogger will source the lense and cut it to spec.
We are available to ship them to you or send our lighting team out to install them for you. Fill in the simple form below with the details of your lens needs – we will respond promptly and fully.
---
Access Floors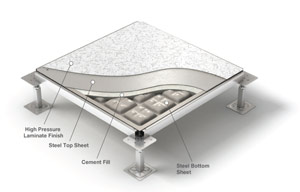 Wood Cogger has significant experience supplying and installing access floors. Access flooring systems are mainly used to create a raised plenum to accommodate underfloor services such as electrical, data and HVAC. Adding the services underfloor helps to maintain clean air, promote productivity, reduce noise, amplify aesthetics and improve the acoustics of your interior environment. There are many types of floor construction, finishes and heights available to meet specific needs and specifications. Our supplier also manufactures and sells a multitude of data center products to control airflow and make data centers more flexible and efficient. Please follow the link below to learn more or contact us directly.
---