Experts in Interior Finishing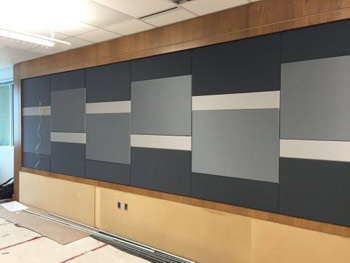 In addition to providing a wide range of specialty interior finishing materials for various commercial spaces, our team at Wood Cogger. also upholds a strong reputation for superior project management and installation. Enhancing your corporate environment is important to you and important to us. We understand that different businesses require unique and custom finishes to obtain outstanding results. Take the guesswork away by having our experts provide you with acoustical recommendations, design and layout suggestions, and have our experienced team complete the entire installation for you.
---
Ceiling Systems
Wood Cogger supplies and installs all types of interior commercial suspended ceiling systems that include:
Suspension systems
Acoustic ceiling tile
Decorative ceiling tile
Linear metal ceilings
Specialty suspended acoustical shapes and trims
Whether your environment requires a fresh new look, you require greater access or want to absorb sound, ceiling systems are just one of the many specialty products we offer to create or modify your existing space.
---
Access Floors
Wood Cogger has significant experience supplying and installing access floors. Access flooring systems accommodate underfloor services such as electrical, data and HVAC.
---
Acoustical Treatment
Wood Cogger supplies and installs several types of acoustical treatments to reduce and control noise. Reducing noise will provide a more comfortable and efficient environment. Our experienced team is available to help you choose the best treatment option by providing expert acoustical analysis for your location.
---
Tectum
Be sure to read why Tectum is such a great product to absorb sound in any space. Wood Cogger supplies and installs all types of Tectum interior wall and ceiling panels. Our expert team will provide you with design consultation to ensure the proper amount of materials is used to maximize its benefit.
---
Sound Masking
Our team is available to design, supply and install the Logison Acoustic Network. Sound masking is becoming popular because of the efficiency it creates in commercial spaces such as offices, call centers and medical patient rooms by creating speech privacy. We've installed and tailored this system within several corporate locations. Contact us today to learn more!
---
Demountable Partitions
Wood Cogger supplies and installs interior commercial partition systems including:
Steel stud framing
Insulation
Pre-finished vinyl gypsum wall board
Aluminum door and window frames
Glazing
Aluminum and/ or plastic wall trims
Doors and hardware
---
Steel Stud Framing & Drywall
Have our team construct walls, bulkheads and suspended ceilings using steel stud framing and drywall your project so it's ready for paint.
---
Other Services
Other services the team at Wood Cogger provides include:
Custom Light Lense Cutting
We stock and custom cut lenses and parabolic louvers to suit your existing fixtures. If we don't have it in stock, we'll bring it in. Read more in our lenses section.
---
Acoustical Analysis
Are you looking for some acoustical assistance? Let us help! We can help determine the quantity and placement of the acoustical material required for your environment that we can supply and/or install.
---
Residential Ceilings
Thinking about a suspended ceiling in your basement? Let us help you decide what material is best and assist you with the layout and quantity of material required.
---